Five Austin Swimming Pools Are Open Year Round
The City of Austin maintains over 40 aquatic facilities, but most of the Austin swimming pools are only open in the summer. If you are someone who loves swimming in any season, there are five outdoor public Austin swimming pools open all through the year. 
The City of Austin generally does not charge admission in the winter months at the Austin swimming pools open year round. While these Austin swimming pools are open for lap swimming, the water slides and most of the kids recreation areas are not available when it gets cold. The City of Austin also closes all aquatics facilities when the temperature in Austin is below freezing.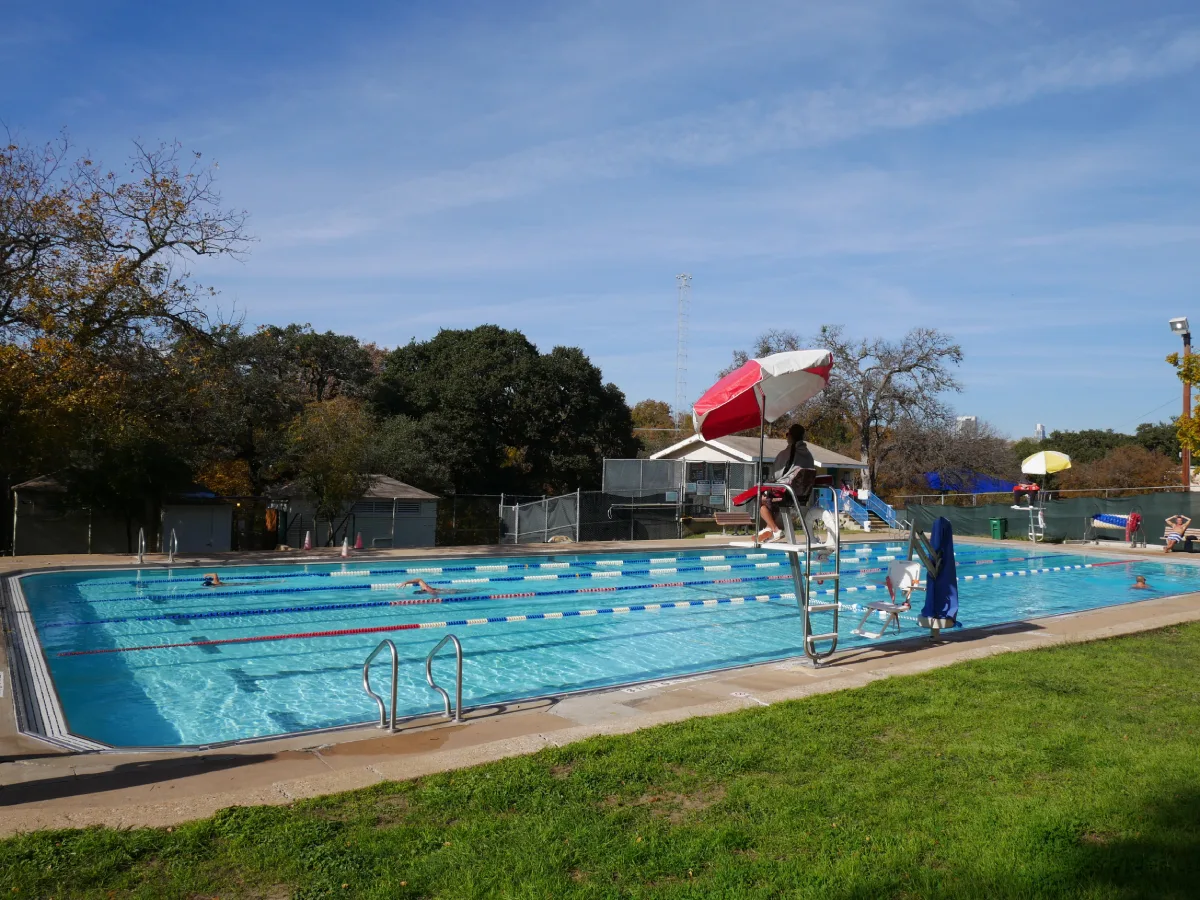 Big Stacy Pool never charges admission and is close to the South Congress Shopping District. Big Stacy is located in a green space in the historic Travis Heights neighborhood with big trees, a playground and walking trails. Many of the structures in Stacy Park are from the national public works program in the 1930's.
The water in Big Stacy comes from an underground hot water spring that is then cooled with City of Austin water. In the winter, the temperature in the pool is usually around 80 degrees. In the summer months, the water temperature at Big Stacy can go as high as 90 degrees.
There are six lanes for lap swimmers and a shallow side for just hanging out. There are also restrooms, changing areas and showers.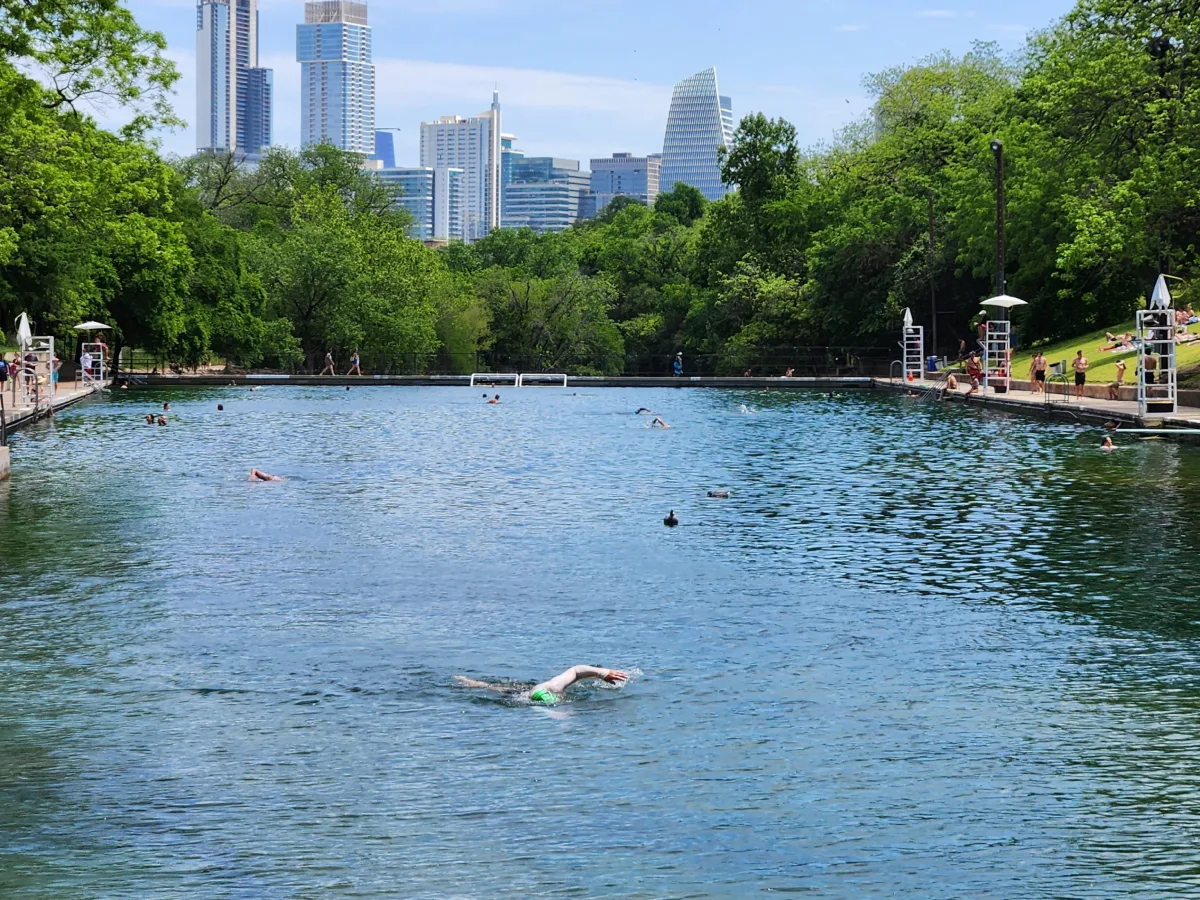 Barton Springs is the most well known of all the Austin swimming pools. Barton Springs Pool is located in Zilker Park close to downtown Austin. While the pool is man-made, Barton Springs is fed by natural spring water from an underground spring. The pool stretches over three acres with plenty of room for lap swimmers and a shallow end for wading. The water temperature at Barton Springs swimming pool is around 70 degrees all through the year.
Barton Springs Pool is not chlorinated. Because it is a natural water pool, Barton Springs Pool is home to aquatic plants and fish, as well as salamanders and ducks. Barton Springs Pool has restrooms, showers, and changing areas. If there is just one Austin swimming pool that you have time to check out, it should be Barton Springs! It is one of those places that is completely unique to Austin.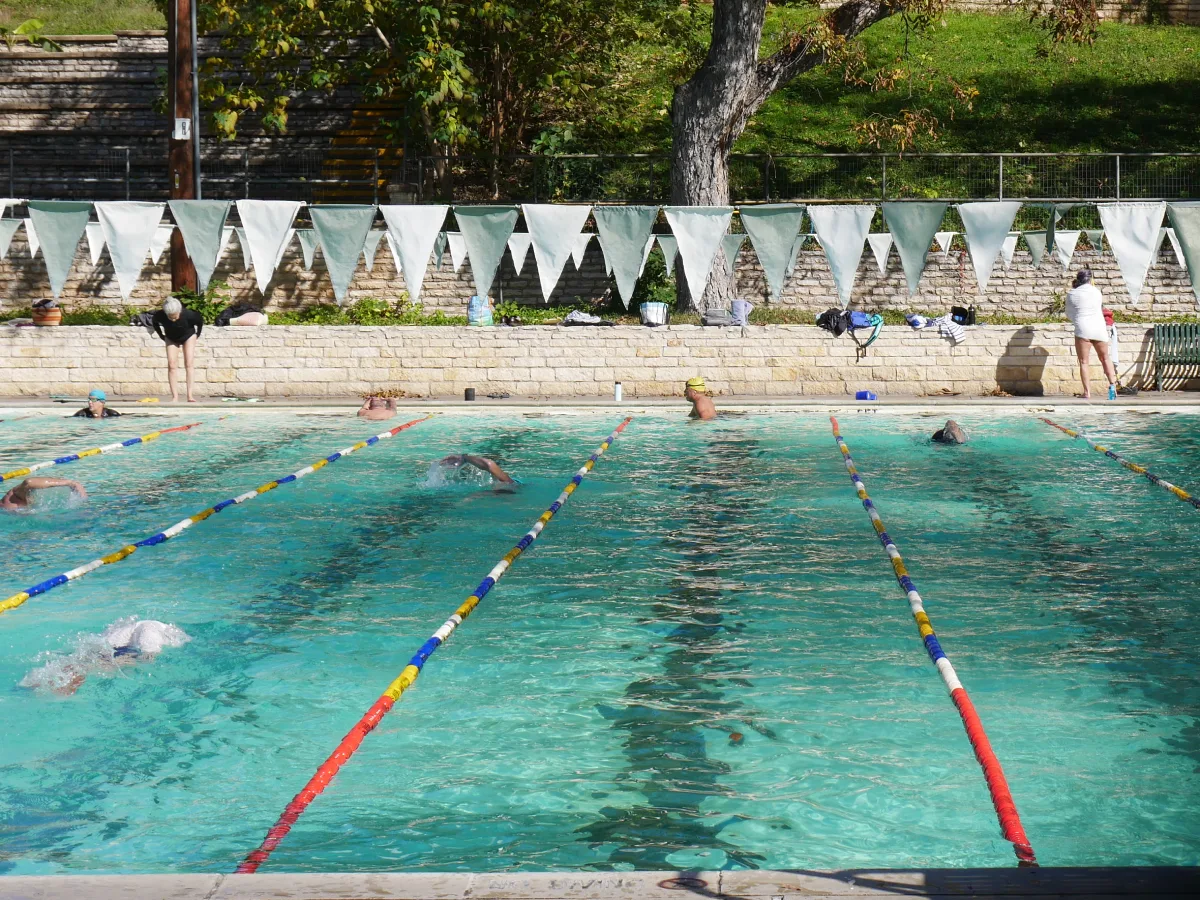 Originally constructed from a swimming hole along the Colorado River west of downtown Austin, Deep Eddy opened as a City of Austin swimming pool in 1936. Deep Eddy Pool was the first public pool built in Texas. 
Of all the City of Austin swimming pools, Deep Eddy has the most interesting history. When it was privately owned the 1920's, Deep Eddy was just as much an amusement park as a swimming pool. Besides a 70 foot slide that emptied into the pool, a flying trapeze over the water, and a 40 foot diving tower, there was a Ferris wheel and a diving horse act that performed regularly at Deep Eddy Pool. 
Deep Eddy Pool is 600 feet long and filled with natural spring water that is not chlorinated. The water temperature ranges between 68 and 75 degrees Fahrenheit. There are 11 lanes for lap swimming as well as restrooms, changing areas and showers. Next to Deep Eddy Pool is Eilers Park, a large playscape with picnic areas.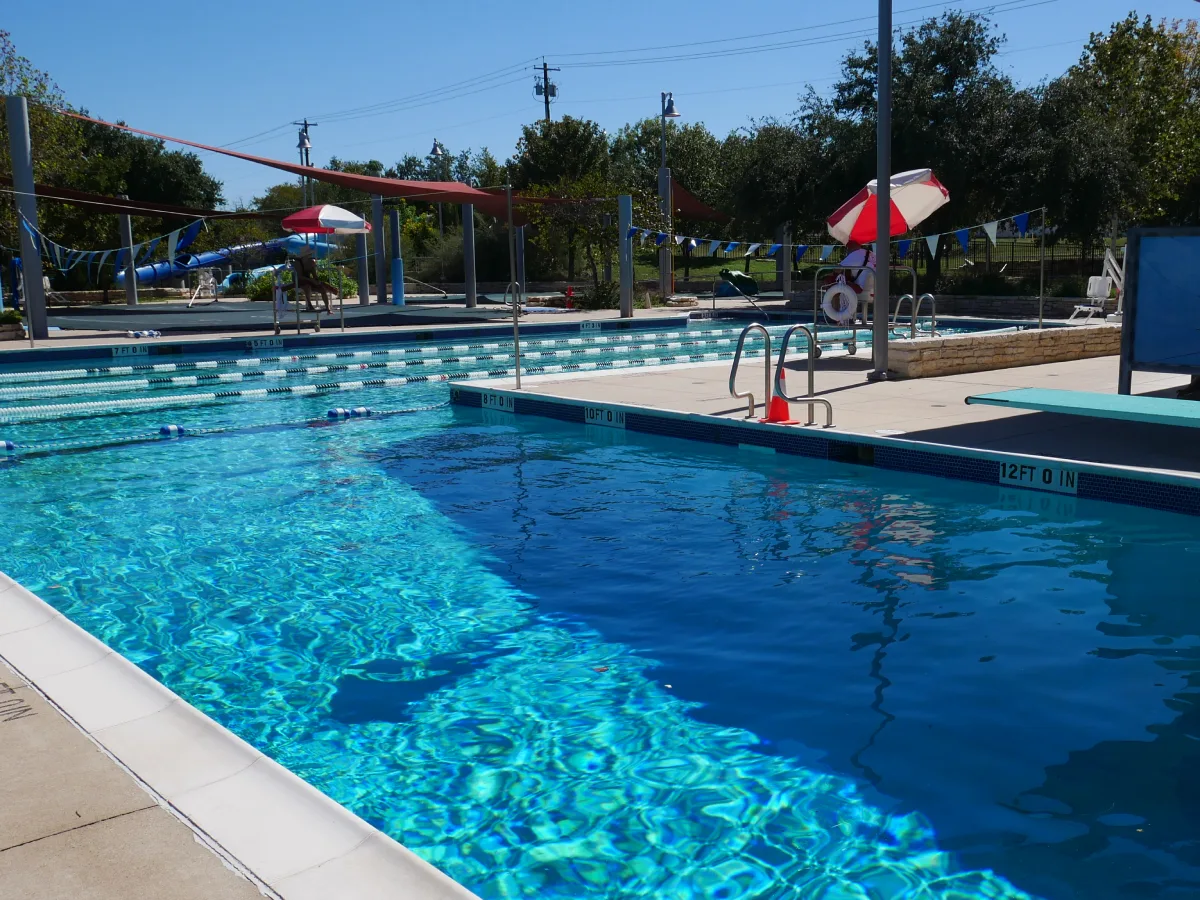 Just off IH-35 in the Mueller Shopping area is one of the heated City of Austin swimming pools available for lap swimming year round. When the pool is heated in the winter months, the water temperature at Bartholomew Pool is around 84 degrees. Bartholomew Pool is off of 51st Street across from the Mueller HEB grocery store in north central Austin. Bartholomew Pool has a 25 yard lap pool with four lanes. There are also picnic tables, restrooms and outdoor showers.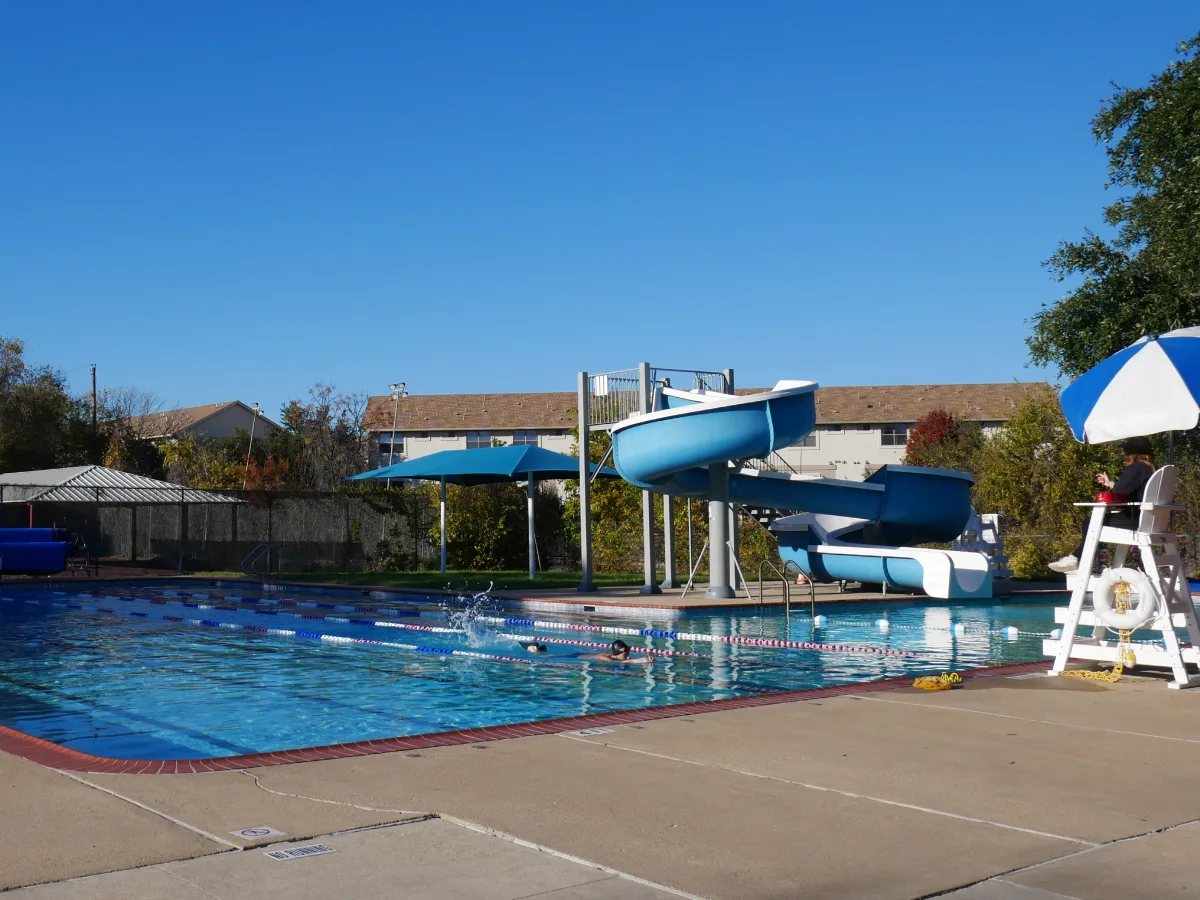 Springwoods Pool is in northwest Austin between Highway 183 and North FM 620. This neighborhood pool is the only swimming pool in northwest Austin that is open year round. Originally built as a neighborhood association pool, the pool is tucked away in a residential neighborhood. Springwoods Pool is heated to about 84 degrees during the winter months. There is a 25 yard lane section of pool with six lap lanes. Springwoods Pool has shade structures, picnic tables, restrooms and outdoor showers.